Body, Mind, Equine™
Also known as The Yoga of Horsemanship™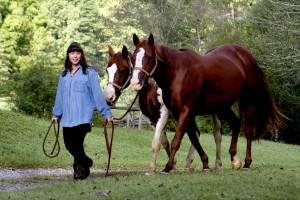 Using Yoga to improve your horsemanship and become a more aware and conscious rider.
Cathy Woods, international yoga teacher/retreat leader and long-time trail rider is the creator and presenter of this nationally acclaimed program.
Body, Mind, Equine explores the parallels of yoga and horsemanship in a fun and learning way.  This program is offered as a one day event to a several day ranch experience.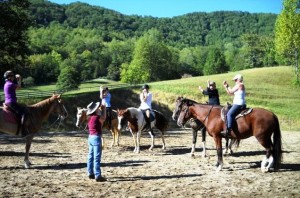 All disciplines of riding and level experience welcome, including new yogis and riders!
Cathy wrote a Body, Mind, Equine article in 2015, which was featured in Yoga Digest.
Body, Mind, Equine with Cathy Woods
Testimonials
"Cathy Woods horse/yoga . . . is, rather than a riding lesson, a communications lesson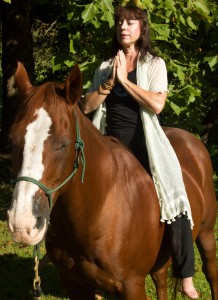 of your body and mind to your horse's body and mind." -Cindy Hughes, Dressage rider and owner/artist of Horse Lady Gifts.
"The Yoga of Horsemanship workshop was a truly enjoyable and enlightening experience. Bridging the con-cepts of yoga with the wisdom and spirituality of the horse enables self-discovery and awareness. You don't have to be an expert at either discipline to be able to take away new concepts and core benefits from this program." -Mary Connaughty-Sullivan, Avid trail and dressage rider.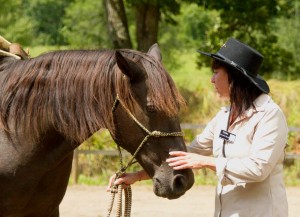 "Riding High Ranch, Equestrian Community was pleased to be selected to host the 'Yoga for Horsemanship' for their property owners, boarders, and guests… A very rewarding day for all in attendance and we appreciated having Cathy Woods with her horses for a full day of stretching, strengthening and learning centered horseback riding." -Helyn H. Moore, Director of Riding High Ranch, L.L.C.
Learn More
Please download this information package to learn more about the Body, Mind, Equine program.